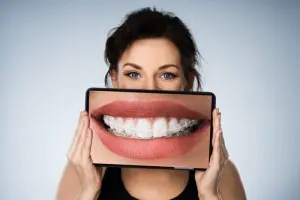 The time has come. You're ready to get braces. You're tired of your crooked teeth, misaligned bite, gapped teeth, overbite, underbite, or otherwise. The only question is: What kind of dental braces are right for you? There are many options to choose from, and not every type is right for every patient. Your Lawrenceville orthodontist will help guide you to the best treatment for your oral health.
Your Dental Braces: Needs vs. Wants
The kind of braces you want and the kind of braces you need can be two different things. You may be interested in the most discreet option possible – Invisalign – but your misalignment may indicate that different braces are better.
This doesn't mean that you are stuck with metal braces though. Clear and ceramic braces are popular options among adults and teens. They are noticeable, but not incredibly so, which eliminates the feeling of being a metal mouth.
Ultimately, your Lawrenceville orthodontist will examine your mouth, diagnose your alignment issues, and make recommendations about what braces are best for you based on these factors as well as your lifestyle, budget, and personal preferences.
The Invisalign Lifestyle
Many adults and teens are interested in Invisalign. They want an alignment method that is unobtrusive, gets the jobs done, and does it in half the time of conventional braces. Invisalign can indeed do just about everything that metal braces can do, and if you're a good candidate, your Lawrenceville orthodontist will let you know.
What you really need to understand, though, is the commitment that Invisalign requires. Because the trays are removable, this treatment method allows for a level of freedom not permitted by any other type of orthodontics. Sometimes you'll have to take the trays out – for all meals and snacks and cleanings. Sometimes you'll want to take the trays out just for a break – but leaving them out for too long could derail your progress.
Lifestyle, habits, and level of dedication are major factors in whether someone is a good Invisalign candidate. If you are committed to taking care of your trays, cleaning them, changing them as instructed, and wearing them for 20 to 22 hours a day, this type of dental braces could be the ticket for you.
The Benefits of Conventional Braces
Teens are often the best candidates for conventional braces – whether they're metal, clear, or ceramic. Because the brackets and aligners are permanently in place, there is no chance of slacking on aligner wear. The treatment is always working, though it does work a little more slowly than Invisalign.
Traditional braces are often great for teens who don't need one more responsibility on top of everything else they're dealing with in their adolescence. The braces are there, they're doing their job, and all the teen has to do is brush and floss meticulously and avoid certain foods so as not to damage the hardware.
Some adults prefer orthodontics that do all the work all the time without having to keep track of trays and aligners. If you're not concerned about appearance, conventional braces can be your route to a straight smile.
Dental Braces from Orthodontist Near Me in Lawrenceville, NJ.
Find out what kind of dental braces are right for you or your teen. Schedule a consultation with Dr. Roberts or Dr. de Marsche at Lawrenceville Orthodontics in Lawrenceville, NJ.