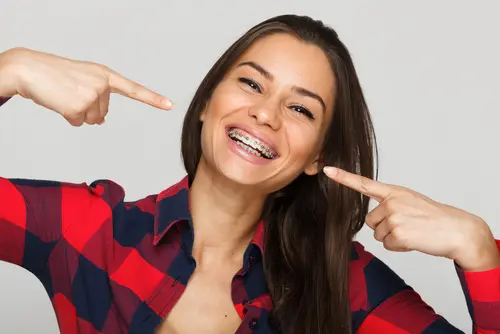 Adults, if you want to get your 2022 off to an excellent start, give some thought to straightening your smile. Your orthodontist understands that you might be reluctant to delve back into the realm of adolescence and dental braces and brackets and wires, but innovations in orthodontia ensure that you can get a straight smile discreetly and break into the new year feeling good about yourself and your teeth.
Ways for Adults to Get Straight Teeth
If you want straight teeth but you don't want braces, you're like every other adult who has the same desire. Did you know, though, that you can straighten your smile without having to resort to metal mouth?
Modern orthodontics have made getting an aligned smile easy at every age. Adults, especially, are a major demographic when it comes to who's getting braces and who's not. And it's all thanks to options like:
Invisalign: Invisalign is the orthodontic innovation of the century, the most discreet way to straighten your smile without noticeable brackets and wires on your teeth and without restrictions on what you can eat. Adults love Invisalign for good reason. This is the treatment that will let you go about your daily life, your job and family obligations, without anyone being the wiser about your orthodontia. Speak up, take photos, enjoy everything with Invisalign securely in place.
Clear braces: If you don't want brackets on your teeth but the misalignment you need to correct requires a more permanent orthodontia than Invisalign, you can opt for clear braces that make the hardware as subtle as possible. Clear everything is better than wonky teeth, right?
Ceramic braces: The next best thing to clear braces are ceramic braces. The brackets are tooth-colored, so they blend in with your teeth as much as possible. Sure, people will still notice that you're sporting some tooth bling, but it won't be super obvious. You might even come to love your accessory.
Lingual braces: These braces are attached behind the teeth so they're less noticeable. This option is far less common and does not work for every misalignment issue, but it's a conversation you can have with your orthodontist if these are the type of braces you want to know more about.
The Responsibility of Dental Braces
We get it, adults don't want more to responsibility to add to their plate than they already have. But let's reframe the circumstances – you want a straight smile, you want healthier teeth, you want to get rid of the pesky teeth that food is getting stuck between, you want to finally have an aligned smile that prevents teeth grinding and cavities and so much more. Braces can fulfill all these wants. All you have to do is find the right braces for you.
If you're ready to get straight teeth in the new year, schedule a consultation with Dr. Roberts or Dr. de Marsche at Lawrenceville Orthodontics in Lawrenceville, NJ. Start now and by this time next year you could have a completely aligned smile that looks, feels, and works like a dream. Don't forget to ask us about our new patient offer.