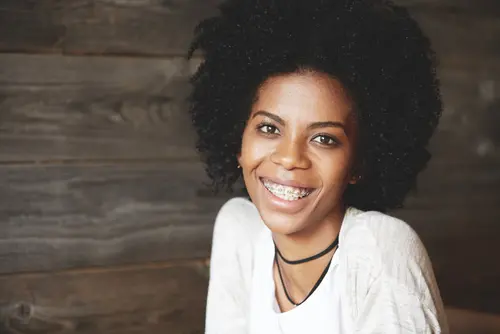 Many people believe that orthodontics are reserved only for teenagers. Orthodontists know the truth – you can get braces or Invisalign at any age if you qualify. When you are ready to straighten your smile, it's time to talk to your orthodontist about whether you're a good candidate for the treatment you want.
Invisalign for Adults
Adults don't want any additional obligations in their already busy schedules, which is one of the big reasons they don't pursue orthodontics. They also don't go after this kind of treatment because they don't want the visibility of braces interfering with their job and lifestyle.
Here's the reality: Invisalign is not a major hassle. Once you get your treatment underway, the trays only require a few extra minutes of attention each day for cleaning and care. Plus, they're nearly invisible. No metal mouth for you. They are slim, smooth, and fit snugly against your teeth so they are difficult to see and blend in with your smile.
It takes time to adjust to every kind of orthodontics, but when you really want straight teeth and want to make them happen discreetly, Invisalign is the best route to take.
Braces for Adults
What if you aren't a candidate for Invisalign? What if your Center City orthodontist tells you that conventional braces would serve you better based on the position of your bite and how much it needs to move? You're not stuck with metal braces. Clear braces with tooth-colored brackets and wires are an option.
This treatment will be more visible than Invisalign, and it will take a little more effort to clean in and around the brackets. There will be food restrictions and the treatment will take longer. However, when you have a misalignment that you've long wanted to correct, committing to this kind of orthodontic care will pay dividends once your smile is right.
Orthodontics for Teens
Yes, metal braces are traditionally the domain of adolescents, but teens can qualify for other types of braces too. For those who are feeling especially self-conscious about the idea of metal brackets and wires, they can often wear clear or ceramic braces. This type of treatment requires a little extra TLC but for many teens this effort is worth it to keep their braces on the down-low.
Many teens also qualify for Invisalign Teen. Parents may worry about their adolescent taking proper care of their trays, but teens are extremely motivated to make this kind of treatment work. But, just in case, each tray has wear indicators that show your Center City orthodontist if the trays are being worn as often as they should be.
There are also teens who embrace braces in all their glory. They decorate them with ever-changing colors of rubber bands and turn them into a fashion statement. Rather than trying to hide the obvious, they accentuate it and live the typical teen life with braces.
Get the Braces That Are Right for You
Ultimately, your orthodontist wants to correct your bite and misalignment and give you the kind of orthodontic treatment that is best for your oral health. You have options, so talk openly with your Center City orthodontist about the braces that are right for you.
Call our office to schedule a consultation with Dr. Roberts or Dr. de Marsche at Lawrenceville Orthodontics.