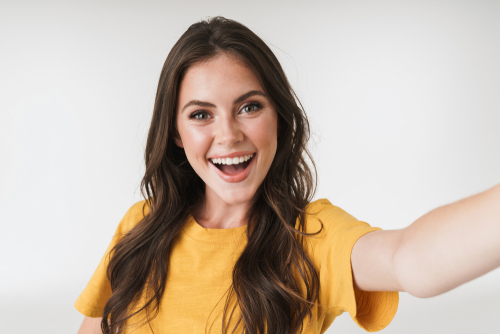 There is only one type of Invisalign clear braces, but there are multiple variations of the treatment under the main umbrella that make it such a great option for so many people. The nature of each person's misalignment will impact what your Lawrenceville orthodontist recommends for the most effective orthodontic care, so your teeth are straightened as efficiently and effectively as possible.
Invisalign Full
Invisalign Full, sometimes called Invisalign Complete, is the Invisalign treatment that everyone knows best. It's a common recommendation for qualified candidates who need to align all their upper and lower teeth at the same time.
Uses up to 48 aligners.
Takes an average of 12 to 18 months to complete, depending on the complexity of the case.
Ideal for adults who want an aligned smile done discreetly.
Invisalign Express
For people who only need small corrections to their teeth, Invisalign Express can get the job done in a timeframe that seems impossibly fast but is incredibly true.
Uses five to 10 sets of aligners.
Takes approximately 3 to 6 months to complete.
Corrects minor spaces.
Fixes mild relapse from previous orthodontic treatment.
Invisalign Lite
Invisalign Lite is designed just like Invisalign Full, but requires less time to align a person's smile. Often, people are hoping they qualify for this version so they can follow it with a professional teeth-whitening or have major treatment completed quickly before a major event like a wedding.
Uses around 14 sets of aligners.
Treatment time is about 6 months.
Corrects minor orthodontic issues like spaces and moderate overcrowding.
Invisalign Teen
Braces are the wheelhouse of the adolescent set and Invisalign is often an excellent choice for teenagers. Kids who want to avoid a brace face are intrigued by the clear aligners, but Invisalign Teen is powerful because it can correct what braces fix:
Straightens teeth, moves the jaw forward, improves bite and chin appearance.
Leaves room for still erupting teeth.
Usually works like Invisalign Full when it comes to timeline and number of trays.
Includes compliance indicators that show the orthodontist the aligners are being worn the proper amount of time in between visits.
Invisalign First
Believe it or not, there is a version of Invisalign intended for young children who are just showing signs of crooked teeth. Invisalign First is a developmental treatment and is intended to correct an orthodontic problem early.
Average wear time is 6 months.
Meant for patients who need interceptive orthodontics.
Addresses crowding, narrow dental arches, and spacing problems.
What Every Invisalign Treatment Has in Common
All Invisalign uses custom-made clear plastic aligners. This method of aligning teeth is more comfortable than conventional brackets and wires, eliminating the chances of metal poking into the cheeks, lips, or gums. Every tray slowly and gently move teeth and roots into their proper positions.
Moving teeth into alignment reduces the wear and tear on tooth enamel and helps reduce the risk of cavities and gum disease (though it's critical to keep teeth very clean during treatment). Contact Drs. Roberts & de Marsche to schedule a consultation at Lawrenceville Orthodontics and discover whether some form of Invisalign is right for you or your child.