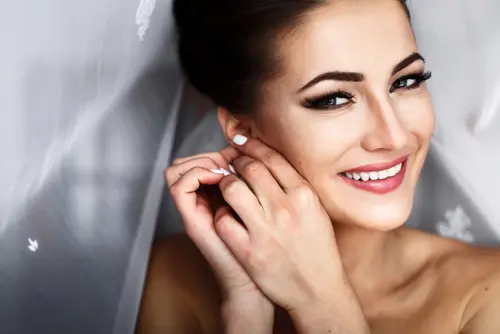 Many engagements are lengthy and last a year or more. Know what else lasts about a year? Invisalign treatment. If part of your self-improvement routine before you get hitched is to perfect your smile, consult with an orthodontist right away to find out if you're a good candidate for clear aligners and get your journey started as you head toward your wedding day.
When You Don't Have Much Time to Spare
Even if there isn't a lot of time before your wedding, Invisalign could still work for you. If you're only correcting a few crooked teeth or other minor problems, you won't need the full course of treatment. In fact, you may only need about a dozen trays or so, which means your orthodontics may last only about six months or less.
There are different versions of Invisalign, depending on the problems you're correcting and the amount of time available to dedicate to the effort:
Invisalign Full: This is the full treatment and complete mouth alignment that takes an average of one year to finish but could last longer depending on how complex your case is.
Invisalign Lite: Just like the Full version, the Lite version only requires about six or seven months of treatment and corrects minor orthodontic issues like spaces and overcrowding.
Invisalign Express: If you have minor spaces or teeth that have shifted out of place after previous orthodontics (mostly because you didn't wear your retainers), Express involves five to 10 trays and lasts only three to six months.
No matter where you are in your wedding planning process, there is a form of Invisalign that can fit in quite nicely.
You Have Time for Invisalign
Many brides and grooms will say that the last thing they have time for right now with all the wedding planning is dealing with their teeth. But consider this: If you put in the time now to perfect your smile, you'll have a lifetime of wedding pictures that you love to admire because your teeth look so great in all the photos. In the grand scheme of things, Invisalign treatment is brief and temporary. And it's worth it. You're planning for more than the day – you're planning for forever. And the same goes for your teeth.
Invisalign won't get in the way of wedding details. You only need to see your orthodontist about every six to eight weeks for a check-up and to collect new sets of trays. The only extra effort you must put in daily is soaking and cleaning your trays and brushing a few extra times. As far as rules go, simply remove Invisalign before meals, snacks, or wedding cake tastings.
This treatment is far from limiting. In fact, it's freeing. (Some brides even say they've lost a few pounds because Invisalign requires them to think twice before having a snack or stress eating.) Plus, the trays are clear – so every photo you pose for, every meeting with vendors that you have, your orthodontics will stay your little secret.
Get ready to smile for your wedding photos with the right course of Invisalign. Contact Lawrenceville Orthodontics to schedule your consultation with Dr. Roberts or Dr. de Marsche.